Table-top XYZ Dispenser DP2010
TheDispenser DP2010is a table-topdispenser configured withdispensingtip for coating antibodies /antigensand Sprayerfor conjugates spraying.
The dispensingmodule provides the low cost solution for reagent application onto lateral flow test strip products. Dispensing tip is made of PEEK materials to dispense reagent onto NC membrane by soft touching. Dispensing tip line spacing adjustment and replacement can be accomplished without tools, allowing quick change-over between products.
The Sprayer is an aerosol type of dispensing nozzle that uses pressurized air to atomize the fluid passing through the nozzle. It is appliedto spraycolloidal gold and fluorescence. The Sprayer moduleis made inJapan, with extremely high efficiency and precision.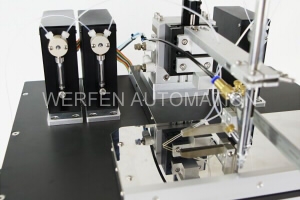 Main Features
1.Able to coat nice and homogeneous lines ensured by:
(1) Famous brand ofhigh precisionquantitative gradientpump
(2)Fixed dispensing tips module, prevent tips from swinging when it moves on the NC membrane
(3)Sliding rack is driven by gear rather than belt as normal product in the market, it is significantly stabler and more durable
High consistency dispensing suit for making quantitative lateral flow test
2.Any issues will be alarmed and recorded in an individual interface, and solution will be provided immediately on the screen.
3.Micrometer heads control the Z axis lifting, simple to adjust the position of the dispensing tips and Sprayer
4.Menu driven operating software.Easy set-up and touchscreen operator interface, interface can be customized according to the production need
5.Continuous mode available for continuous production
6.Micro-volume mode available for small quantity R&D use.
7.With both functions: dispensing and conjugate spraying
8.Small footprint, bench top application
9.Contact dispensing and non-contact Sprayer
10.Multiple nozzles can be customized
Parameter
Sprayer efficiency:80-130mm/s Sprayer Precision:±0.5%
Dispensingefficiency:40-120mm/sDispensing precision:±0.5%
Dispensing Volumes:0.1-10μlSprayer Volumes:0.1-10μl
Equipment dimension:480*300*320 Working platform dimension:500*130
Flexible
1.Optional pump from Tecan and Thomas.
2.Menu driven operating software.
3.Custom size of working platform
4.Custom number of dispensing tips
Updated Dispensing Tips Module
*New dispensing tips intervals are easy to be adjusted by the screws freely.
*The minimum interval is 0.
*Easy to change new new tips.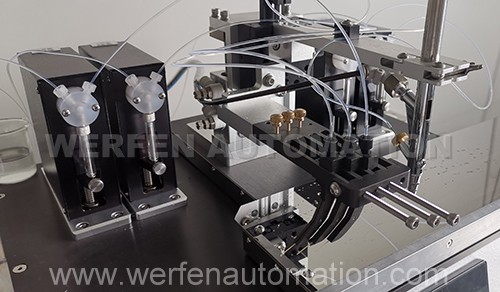 Other Sprayer for Option 1
*Short and small, easy cleaning, even you can soak whole in the detergent, less blocking risk
*Easy to array several head in a line for multiple line spraying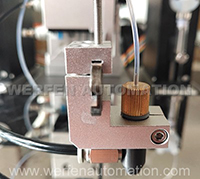 Other Sprayer for Option 2
* Two mode of spraying,Two mode of spraying strength. Adjustable to coordinate with your requirement for the spraying performance
* The spraying head can be dismantled to be easier cleaned